Noctiluca Red Tide
In Monterey Bay, California, in May 2011, there were several areas that experienced red tides, consisting of the species Noctiluca scintillans. As the bloom matured and the cells aged, their buoyancy increased, and they floated to the surface to form an orange slick about an inch thick.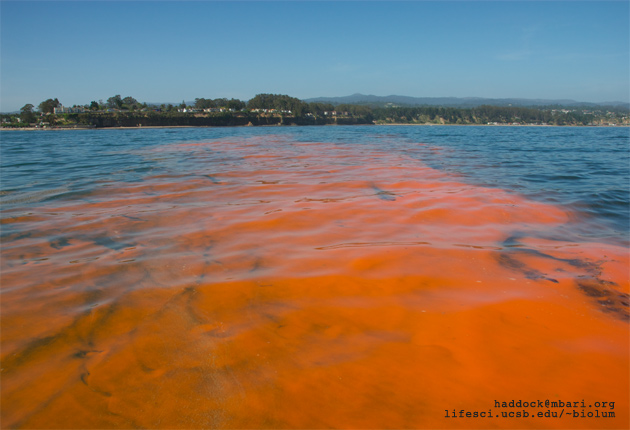 Within the slick, the dinoflagellates were densely packed, with 9500 of the 0.5 mm diameter cells per milliliter (nearly 10 million per liter). Noctiluca species are not "armored" nor are they photosynthetic. They use a little tentacle or flagellum to ingest other phytoplankton cells, including other smaller dinoflagellates and diatoms. As a result, they don't have high amounts of chlorophyll in them, which will become important below.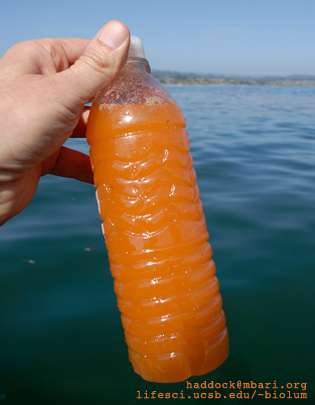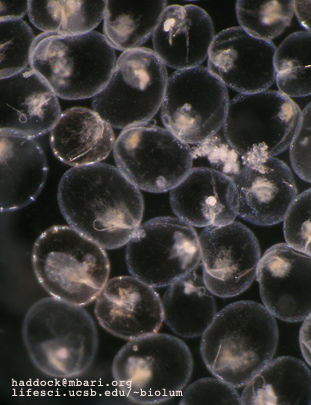 ---
Sampling the bigger picture
Using an autonomous underwater vehicle called an AUV (basically a smart and friendly torpedo) we are able to measure the oceanographic conditions over a large area.
Bioluminescence was high in areas of high fluorescence (left side of the images below). This indicates co-occurrence of luminescence with phytoplankton like diatoms or photosynthetic dinoflagellates, but it was even higher in areas where the fluorescence (and thus chlorophyll) was low (right side of the images). This indicates either zooplankton producing the luminescence or, in this case, non-photosynthetic dinoflagellates like Noctiluca.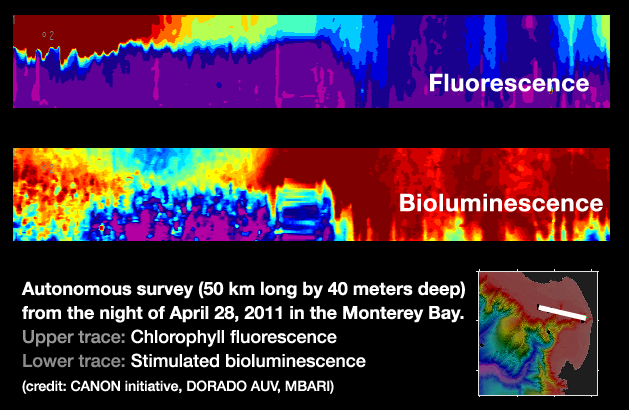 ---
Report your sightings
If you come across something interesting like a red tide, or jellyfish on the beach, report them to the citizen science database located at jellywatch.org.

---
References and Additional Reading:


Buskey, EJ. 1995. Growth and bioluminescence of Noctiluca scintillans on varying algal diets. Journal Of Plankton Research 17:29-40 [PDF]